| | |
| --- | --- |
| THE AEOLIAN ISLANDS: ALICUDI | |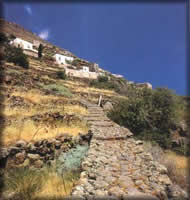 Alicudi is one of the seven islands of the Aeolian Archipelagus. It is the farest, the western and the most lonesome. Alicudi belongs to Lipari municipality and counts around 200 inhabitants living in the village of Alicudi, located in the easter area of the island. The formerly name of Alicudi was Ericusa, from a particular kind the grass "erica" very present in this island. Alicudi has a very old history: for centuries pirates made raid on it so people found a natural shelter called "Timpano delle Femmine" (Womens'eardrum). This name reminds the place where women stayed when pirates approached the island.
For the same reason, the inhabitants of Alicudi built their houses on terraces halfway up the hill in the easter part of the island.

Even if it is quite isolated, Alicudi enjoys a great success thanks to its amazing landscape and its coast.
The only beach you can reach on foot is Alicudi Porto, the others just through the sea.
Do not miss the boat trip across the island to enjoy the wonderful northern and western coasts.
A period of time in Alicudi is surely a relaxing experience: no car noise will break the rest of your stay.
Because of its remote placement, the island of Alicudi is a far-away corner from traffic and wordliness. There are no night clubs, pubs, pizzerias, newsstands or barber shops. There are only two grocer's shops, a bar restaurant and one hotel.
Cenni storici di Alicudi
La storia di Alicudi, come quella di tutte le ISole Eolie, Ŕ molto antica: si trovano infatti testimonianze di un nucleo abitato del XVII-XVI secolo a.C. situato vicino all'attuale zone dove si trova il porto. Altre tracce di insediamenti della stessa epoca sono state ritrovate sulla cima dell'isola. Questi ritrovamenti hanno fatto supporre cheil sostentamento della popolazione preistorica che viveva sull'isola di Alicudi, si basasse sull'agricoltura e la pesca. Si sono ritrovati inoltre sulla costa, reperti di ceramica di etÓ romana e questo avvalora l'ipotesi che Alicudi, assieme a Lipari, sia stata sfruttata dai Romani per il commercio dell'ossidiana. Nella localitÓ Fucile sono stati ritrovati sarcofagi di lava al cui interno vi erano conservati vasi del IV secolo a.C. Alicudi, come le altre isole Eolie, fu oggetto di incursioni barbariche: questo fatto si può evincere dalla fortificazione naturale chiamato Timpone delle Femmine, dove si rifugiavano le donne del villaggio durante le razzie di barbari e corsari.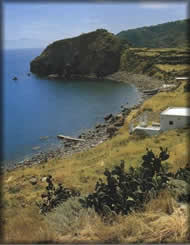 Alicudi Trips
We advice the boat trip through the island: you can enjoy breathless views such as Alicudi Porto, Scoglio della Galera with its crystal-clear water and Sciara dell'Arpa, a valley going down to the sea.
Trip to Filo dell'Arpa (675 m.): it is the tallest top of Alicudi. You can reach it walking and you will enjoy an amazing view.







Alicudi Typical cookery
The typical cookery of Alicudi, like all the Aeolian cuisine, is mainly based on fish.
Among tradituional dishes, we can find "spaghetti with sea urchins": spaghetti are seasoned with a sauce with sea urchins' eggs, capers, garlic and pepper.
Another typical course is "linguine with almonds", a very peculiar receipt in which linguine are seasoned with a sauce based on almonds, garlic, tomato and basil.