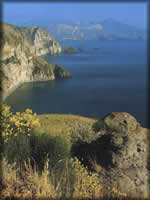 The Aeolian archipelago is made up of seven islands: Lipari, Vulcano, Panarea, Stromboli, Salina, Filicudi e Alicudi.
Lipari is the widest, the most popolous and, except Salina, all the others islands belong to its municipality.
You can reach Lipari by the sea in two ways: ferries arrive to Marina Corta, boats to Sottomonastero.The island of Lipari is
very complex from the geological and volcanogical point of view: endogenous manifestations are fumaroles (in Bagno Secco), solfataras and hot springs (in San Calogero). The island of Lipari is an ideal climatic resort and an ideal place for holidays thanks to its mild weather and its breathless landscape. Do not miss the boat round trip with its beaches, grottos, bays.
The center of the village is situated between Marina Lunga and Marina Corta and its heart is the castle, the old bishop palace and the Cathedral.
Lipari counts about 9000 inhabitants living in the suburbs of Pianoconte, Acquacalda, Quattropani e Canneto.
Lipari historical hints
The former name of Lipari was "Meligunis" a Greek word meaning "sweet": maybe this name is due to its mild weather that allowed human settlements since 3.500-2.000 B.C. The main business in the villages of the island was
the obsidian trade. Periods of development and prosperity came acroos until 1.800 B.C., when in Lipari came the civilization of Capo Graziano. This great development allowed the inhabitants of the island to count on many trade jobs and to become outspot of the Greek. During XIII century, both people coming from Italy (like Ausoni, Phoenix and Etruscans) and people coming from Greece(Cnido and Rodi) established in Lipari. During the Roman domination, Lipari was a well known SPA.
Like all the Aeolian Islands, Lipari was afterwards laid waste by Arabs' raids and recovered under Normans' domination. Angevins, Aragonese, Spaniards followed together with Pirates'raids again. During XVIII century, Lipari enjoyed a period of rest and prosperity and later followed the fate of the "Kingdom of Two Sicilies".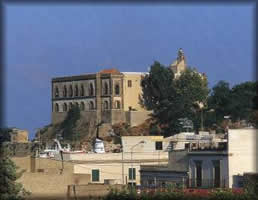 Typical Lipari cookery
The main element of the traditional cuisine is fish and dishes are rich in herbs like oregano, garlic, basil, mint and above all capers. Typical receipts are "scorpion fish alla liparota" cooked with capers, tomato, onion and herbs; "swordfish salad" with capers and swordfish cut à julienne, oranges and lemons slices, almonds and capers; "Mulincianeddi chini", a kind of meatballs with aubergine, capers, tomatoes and pepper.



---

Book with us an Hotel in Lipari: you can find our selected accomodations
online on our website www.initalia.it