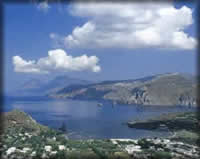 Vulcano is located north-east of Sicily and south of the Island of Lipari.The island of Vulcano is made up of three volcanic units: Vulcanello (123 metres) in the north, coming from an eruption during II century B.C., it is linked with the island by a strip of land made up of lava flows. In the middle, you can find the Gran Crater or Vulcanic Cone (385 metres) which is stll active; in the south there is the Mount Aria (499 metres), inactive, it is the top summit of the island.
Vulcano is a very interesting island due to its volcanic and post-volcanic phenomena. Its plateau, the widest of the Aeolian Islands, is surrounded by hills, falling towards the sea. Vulcanello is made up of three lined-up craters in direction North-East/South-West. Vulcanello is constantly monitored by the Institute of Vulcanology of the University of Catania. The islands of Vulcano counts around 450 inhabitants who are involved in tourism and viticulture.
Vulcano historical hints
In ancient times, Vulcano was considered by Greeks as an island sacred to Efesto (god of volcanos) because it was supposed that in the fire island gods forged their weapons. Legends describe the crater of Vulcano as the workshop in Efesto where Cylops worked: the original name of the island was "HierÓ" (sacred) or HierÓ Ephaistou (sacred to Efesto). The intense volcanic activity of the island impressed famous historics such as Aristotele, Plinio and Senofane. Because of this activity, the island was not supposed to be inhabited since quite modern times. During the Roman domination till the Borbonic period, the island of Vulcano was exploited for its mineral resources (sulphur alum and wood). In 1860, the Scottishman Stevenson bought the northern part of the island, built his cottage and began the cultivation of grape. He continued the exploitment of the island until 1888 when a strong eruption destroyed his equipment and forced the Scottishman to leave the island. Nowadays, Vulcano is enjoying a great success: after the Second World War, the famous actress Anna Magnani played a movie on the island (opposite the movie "Stromboli" directed by Rossellini).

Vulcano Typical cookery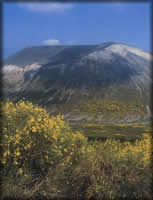 Unlike the other islands, the main activities of the inhabitants of Vulcano are sheep-breeding and hunting: therefore you can find excellent cheese, as goat ricotta. Traditional dishes are ricotta fritters, spaghetti with ricotta, rabbit, sea slugs with tomato, onion and parsley.





---

If you want to spend an holiday in Vulcano, you can book an hotel through our online reservation center. You will find a lot of accomodations in all the Aeolian Islands on our website www.initalia.it