| | |
| --- | --- |
| VULCANO EXCURSIONS | |

Boat round-trip
The tour of the island starts from Porto di Levante, very well known for its fumaroles and its termal springs. Following the tour towards north-west, you arrive in the small peninsula of Vulcanello. After the channel dividing Vulcano from Lipari direction south, you will see the amazing Grotto of the Horse, with its spectacular lights effects. Then you comes back to Porto di Levante.


Grotto of the Horse
it is well known also as "Grotto of the Hermit"; it has three entrances. Inside the grotto, you can find galleries, small lakes, stalactites, stalagmites: thanks to effects of sulphuric water, they created very particular dome vaults.




Cliff of the Mermaids
It defines the black sandy beach; on its left you can see the Monsters'Valley
---
---
Vulcano Visits

Round-trip of the island
In Vulcano there is no one road turning around the island. A visit in Gelso by taxi or scooter is really interesting. Gelso is 16 km from Vulcano and in Lentia you will enjoy a breathless view on the archipelago.

Climb to the Vulcano crater
You reach an height of 400 metres after one hour'walk. The path to the crater begins from the port: once on the top, you will enjoy an amazing view.

Pool of termal muds
In the bay of Porto di Levante, there is a pool surrounded by sulphuric hills in which warm water fumaroles come out: they are open-sky terms for natural mud bathing. After bathing, you can rinse in the sea, with its underwater springs of natural water, particularly fit for rheumatism and skin deseases.

The monsters' Valley
Located in Vulcanello, volcanic rocks derivated from lava flows took peculiar forms considered monstrous and frightened. From the Valley you can see an amazing veew on the Cliff of the Mermaids and on Lipari.
Black sandy beach
the Porto di Levante (Eastern Port) and The Porto di Ponente (Western Port) are rich of beautiful beaches. It is the ideal place for sunbathing.

---
Vulcano underwater routes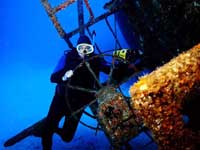 Capo Testa Grossa (Large Head)
in this area you can find a very nice cove where rock sink sheer to the seabed housing wondergul sponges.
Scoglio Quaglietto
Between the Quaglietto and Large Head you can find one the best cove of the Aeolian Islands. There are many natural pools (the place is known as "Bagno delel Vergini"). Close to yhe Quaglietto you enter a grotto at the internal on its seabed there is a statue of the Virgin Mary.